Computerized:
Computerized
Certification:
CE, ISO9001:2008
Injection Pressure:
180MPa
Transport Package:
Wooden Cade 55001550X2100
BST-3400A Plastic Tray Injection Moulding Making Machine Price In China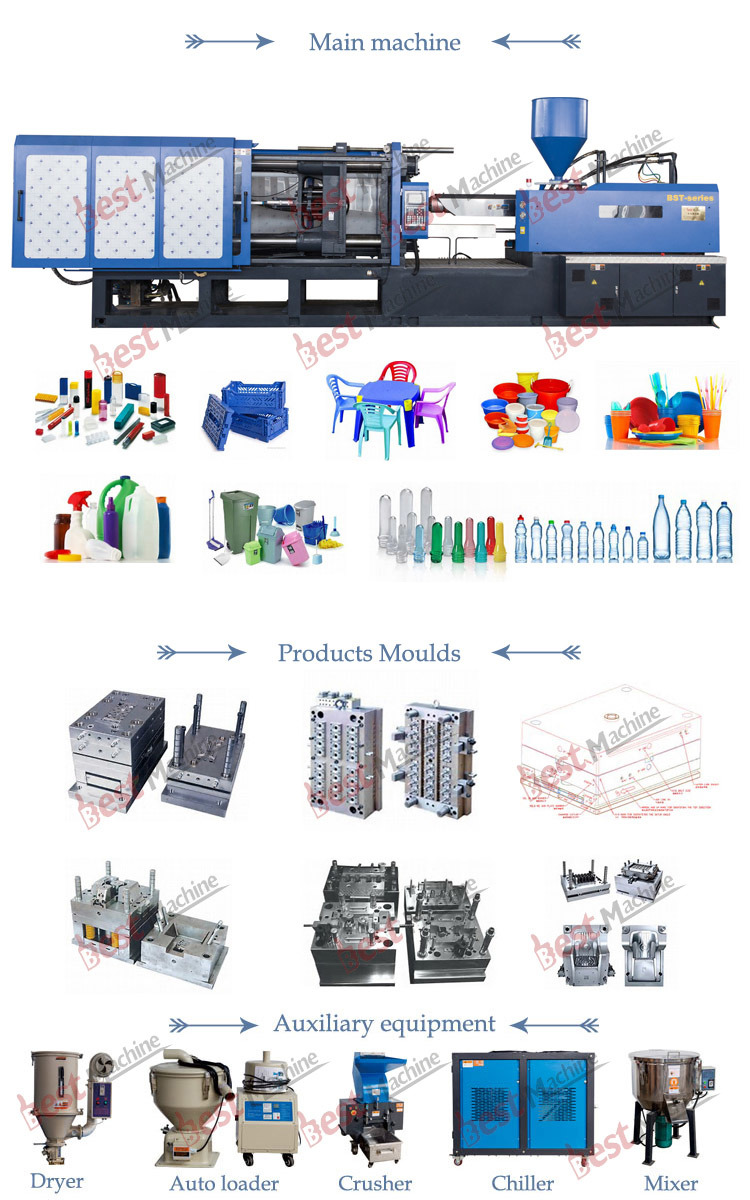 FEATURES
- A variety of text can be switched.
- Manual, semi-automatic and fully automatic mode.
- Automatic movement monitoring with alarm and fault diagnosis.
- Function of slope setting can set the start and stop of movements, so as ensure the smooth movement.
CONTROLÂ SYSTEM
All digital control system uses dedicated controller, multiple CPU processing division,
a multi-functional automatic fault detection, alarm system, certificates 99 mold of
processing procedures, with remote control interface. System is of high stability and
responsiveness. System uses color LCD, man made interface for easy operation and
with a number of peripheral interfaces.
HYDRAULICÂ SYSTEM
Advanced hydraulic system design, through proportional control of pressure, flow achieves rapid multi-level pressure, speed switching, the system configuration is reasonable, stable and reliable. The noise is less than 75 dB. The medium and large machine adopts a two-way cartridge inserted valve system to improve the system of flow and speed of response, and makes the whole machine reach the best performance.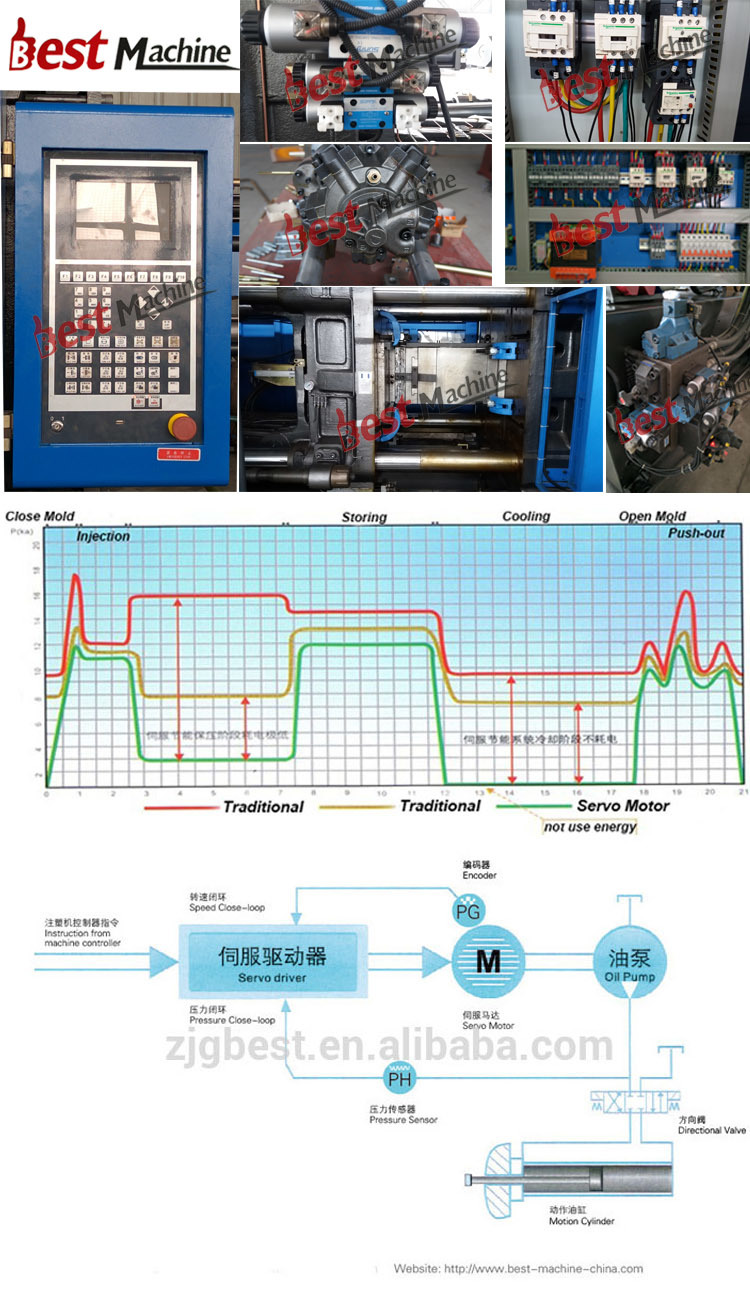 BST-3400A Injection Molding Machine
- shot weight is335-378g,
- Max Opening Stroke:440MM,
- Space Between Tie-bars:480X460MM,
- Imported advanced computer systems, Chinese / English interface. 
- Can save 50 sets of mold parameters.
- Advanced clamping structure and injection parts, precision hydraulic system and circuit design.
- Suitable for producing different types of precision small parts.
- A variety of text can be switched.
- Manual, semi-automatic and fully automatic mode.
- Automatic movement monitoring with alarm and fault diagnosis.
- Function of slope setting can set the start and stop of movements, so as ensure the smooth movement.
- Quality:12 month Quality guarantee ,Free spare parts replacement,(NOT include man-made sabotage) 
- Service:We provide free advanced training and maintenance in china factory,and 24 hours on-line or phone service if you request we also can provide installation and training abroad,until customer's satisfaction 
- Delivery time:35days after advance payment  
 
BST-3400A Injection Molding Machine
MODEL
BST-3400A
INJECTION UNIT
 
A
B
Screw diameter
mm                                    
58
60
Shot size(theoretical)
Cm³
858
918
Shot weight
g
772
826
Injection pressure
Mpa
180
168
Injection rate
g/s
254
272
Screw L/D ratio
L/D
22.2
21.5
Screw speed
r.p.m
0-180
Nozzle Diameter
Srmm
20
CLAMPING
 
 
Clamp tonnage
KN
3400
Toggle stroke
mm
580
Mould Thickness
mm
270-650
Space between tie-bars
mm
640X640
Ejector stroke
mm
160
Ejector tonnage
KN
80
Ejector number
Piece
13
Hole Diameter
mm
160
OTHERS
 
 
Heat power
KW
17.5
Max. pump pressure
MPa
16
Pump motor power
KW
30
Valve Size
mm
25
Machine dimension
m
6.7X2.0X1.9
Machine weight
t
10.8
Oil tank capacity
L
400

 
Company Information
ZhangJiaGang BEST Machinery Co.,LTD is located in a beautiful development zone in Tangqiao, Zhangjiagang City, Jiangsu Provice, China.
Company is very professional in research, development, manufacturing of all kinds plastic machinery and moulds, with more than 2000million fixed assets, during the past 10 years, we always force our energy into new areas of plastic packaging machinery,to update the technology, to learn advanced experience, to confirm new theory and new design,we are forming a unique competitive advantage of our owns. 
The machine from our company carry good quality and effective after-sales service, upon the domestic market, we hotly export machines to Russia, South Africa, Vietnam, Ethiopia, Saudi Arabia, Malaysia, Canada, Algeria, Uzbekistan and many other countries, create good sales performance and well feedback, all to strengthen our position in this field.
 We have a professional and experience QC team, make sure good quality of every component of machine.
All of machines are assembly by our 10 years experienced workers.
Each injection molding machine with automatically working test at least 72 hours before shipment.
Each machine with one year free spare part.

packing&shipping
We take care of our machine packing and loading.
Injection machine with anti-rust process, make sure no rust due to ocean shipment.
Each package would be fixed stable inside container, make sure no damage or crash during whole shipment.
We should take photos of loading, and send to you for reference.
 
A Century of Good Ideas
For over a century, automobiles have been equipped with one or more windshield wipers. The earliest was a hand operated unit: handle on the inside of the windshield, brush on the outside, with a connector passed through the frame. Soon after, the rubber squeegee replaced the brush. Today we have computerized mechanisms that sense rain, start their process automatically, and clear windshields continuously unassisted, intermittently as chosen, or automatically as needed.
Changes in Weather, Changes in Composition
Progressive change in the design, manufacturing, and production of windshield wipers and wiper systems have been largely uniform, due to standardized changes in technology and little change in the basic elements of weather. Industrialization has released acids into the atmosphere that weren`t there in vast numbers 100 years ago, but synthetic rubber, the use of stainless steel, and galvanizing processes, by and large, have worked well to fend off a significant impact on everyday reliability with only a fair share of incremental cost to the consumer. Still, though, windshield wiper arms and assemblies are not indestructible. By today`s standards a windshield wiper system will be in operation for about 12 years. Consumers will still find a need for after-market arms and assemblies during that period due to mechanical wear and prolonged exposure to the elements.
Electronic Mechanisms, Less Common for Problems

Switches, modules, circuit boards, and motors are the more expensive elements of the windshield wiper system. They fair better, in longevity, than arms, assemblies, and windshield wiper blades- more along the 12 years durability of the vehicles themselves. First off they are shielded from the elements of whether, and don`t require regular maintenance or human physical contact. Secondly, with the exception of motors or actuators, they don`t physically move, but rather passively handle the passage of low voltage electrons. If a motor does fail, more than likely the failure will not be a hardwire issue, but rather something that will signal a need for attention with noise, such as a worn bearing or damaged spline.
Natural and Synthetic Rubber

Since the outbreak of World War I (1914) the demand for rubber products has been instrumental in the growth of industrialization. Shortages due to geopolitical changes in South America and Asia spurred the need for synthetic rubber. By 1943, two years after the start of WWII, petroleum based synthetic rubber surpassed the supply of natural rubber. Windshield wiper blades followed suit, but despite advancements, synthetic or natural, rubber windshield wiper blades continue to succumb to elements of acid rain, fluctuating temperature, and constant friction.
Most Common Windshield Wiper Problems

Dirt, grease, and grime are among the most common problems associated with wiper blades. The good news is, dirt, grease, and grime can be removed by frequent cleaning with alcohol wipes or soap and water. A small amount of petroleum jelly will replenish the natural oils lost under normal conditions. If you don`t expect the blades to do the work of an ice scraper, your blades will surprise you with their longevity, barring unexpected injury do to road hazards and abuse. Make sure to physically remove ice and frozen grime from your windshield and wiper blades prior to running the windshield wipers.
When your wipers leave fine streaks and lines on your windshield, and cleaning the blades has no effect, or when your wipers become noisy as they move across the windshield- check for damage such as rips, bends, and brittleness. If you find the blades are damaged, replace them with refills when available or assemblies from your local automotive retailer.
If the wipers appear to jump along the windshield at high speeds or leave large streaks on your windshield under every day conditions, pull the Windshield Wiper Arm back and inspect the springs and linkage. Sometimes their function can be restored with a lubricant. If not, then, replace the arm or assembly as needed with any one of the fine replacements found in your local retailer. Some retailers will install blades, assemblies, and arms free with your purchase.
Synthetic Scraping Wiper Linkage
Synthetic Scraping Wiper Linkage,Smart Car Wiper Linkage,Bus Wiper Linkage,Auto Windshield Wiper Linkage
COMOTECH ASIA PACIFIC (HANGZHOU)CO.,LTD , https://www.capwiper.com