Whether it is Ma Yun and the richest man Wang Jianlin's 100 million yuan gambling, or the day of the double eleven mad purchase day, online sales are in full swing. The major merchants not only promote online, but also promote the horn of the battle. 50% discount, speed of express delivery, four days and four nights of non-stop shopping and other slogans to impact the visuals of netizens, online hot-selling slogans to go home to prevent wives from buying online homes are more tempting.
For the gamble with Wang Jianlin, Ma Yun said that we must win this bet. If Wang Jianlin wins by 2020, it is that our entire society has lost. Our young generation has lost, indicating that the efforts of this generation are not the same as the previous generation. When commercial real estate dominates at that time, it is the failure of market transformation.
Regardless of Ma Yun's statement that by 2020, e-commerce will replace traditional physical retailing, and whether the vision of the retail market 50 will be realized is undoubtedly that e-commerce is really hot. The data shows that in 2012, the online retail market in China exceeded 1.3 trillion yuan, a year-on-year increase of 67.5. The growth rate was about 4.7 times of the total retail sales of social consumer goods in that year, equivalent to 6.3.
Just as e-commerce giants sweared and sweared, some LED lighting companies have already developed online marketing strategies to enter LED e-commerce marketing. LED e-commerce battlefields suddenly smoked, and LED e-commerce, which is expected to cut market share from e-commerce channels, is eager to try.
The e-commerce situation is fierce, and all the surprising moves are busy in the rapid increase of LED lighting demand. At present, the profits of lighting enterprises are generally increasing. The competition for channels is becoming more and more fierce. The LED lighting enterprises that have been keen on opening specialty stores and building distribution channels have become more and more The more you value the e-commerce channel. The person in charge of the South China region of the Tmall Business Department pointed out that personalized, wireless and new media tools are three new ways to attract customers. The old marketing methods will make customers lose interest, and they want to play with the double eleven. There are new innovative marketing models.
Liu Jiao, deputy secretary general of the Guangdong Provincial Lighting Association, said in an interview that at present, the six practices of the lighting industry as the mainstream of e-commerce are: 1) clear inventory or tailings strategy (such as: home appliances, clothing brand enterprises); 2) The network is dedicated to differentiated strategies (such as: lighting, traditional home appliances, well-known brands of new e-commerce companies); 3) sub-brand development strategies (such as: the industry's well-known brands to protect the original sales system and price policy adopted more 4) Development of online distribution system strategy (emerging lighting brands, companies with no own sales network adopted more); 5) online and offline same price strategy (new-brand brands, online sales have a certain scale needs to be offline); 6) Online order offline experience and distribution service strategy (Gree, Haier is most likely to be the first to achieve).
Deputy Secretary-General Liu Jiao said that the first four strategies are currently implemented more, while the fifth strategy has higher requirements for merchants on product categories; the sixth has higher requirements on the number and distribution of offline outlets. The ability to manage and control has high requirements, so it is necessary to operate e-commerce with a systematic thinking, weaken the color of channels, and weaken the resistance and rebound of offline channels. Therefore, enterprises should design and choose according to their own characteristics.
Liu Jiao also told reporters that e-commerce is the innovative way for emerging LED lighting companies to develop their own brands, but to do a good job in O2O at least five major preparations: e-commerce operations management talents, product line development and life management talents and resources, Warehousing and logistics management capabilities as well as offline online policy development, systematization, standardized brand identification, brand promotion and perfect service manual.
The double eleven shopping carnival led by e-commerce has caused tremendous pressure on traditional merchants. Taobao's sales performance of tens of billions of dollars has eroded the traffic of physical stores. Online shopping is booming, offline retail is cold and clear, and traditional department stores and shopping malls can't help but call the double eleven. The biggest killer during the period is the so-called absolute low price. The physical store launched a counterattack against the e-commerce singer-like Dafa-like passenger rush, and the city white-collar shopping darling was the focus of the two sides. Looking at the counter-attacks made by traditional merchants, they have also made a fuss about the price and vowed to compete with e-commerce.
Due to the difference in cost structure, physical stores are not the opponents of e-commerce in terms of price. Even in large-scale stores such as Suning and Gome, in the case of adopting online and offline synchronous price strategies, the attention of physical stores is still far less than online. In fact, the reason why the double eleven is so hot, the main reason is the price war between different channels of different businesses, so that consumers think online shopping is cheaper. However, some analysts have pointed out that the e-commerce concessions are far less than the claims they claim, and they are not even comparable to the discounts of some physical businesses. After all, the price war is only a low-level competition in business, it is difficult to become a sustainable competitive advantage, and consumers will soon wake up from irrational impulse consumption.
Compared with traditional channels, e-commerce has two characteristics: one is that there is no regional restriction and the audience is wide; the other is to shorten the intermediate circulation link and achieve flat management. This is undoubtedly an opportunity for emerging LED companies that do not occupy traditional channels. Because it is very difficult to get into traditional channels quickly and with large traditional lighting companies. The low-cost, wide-coverage features of e-commerce have become extremely attractive. Therefore, some emerging LED companies are quite fond of e-commerce.
Innovative marketing model, the rise of LED e-commerce this year, the eleventh is the opportunity for e-commerce to show their talents, but also the shopping carnival pursued by netizens. According to the official index of the Taobao platform, it took only 6 minutes in the early morning of the 11th, and the sales of Tmall double 11 exceeded 1 billion yuan. In less than six hours, sales exceeded 10 billion yuan. At 10 o'clock in the morning, sales were almost 15 billion yuan. As of 24 o'clock, Tmall double eleven sales exceeded 35.519 billion yuan, while in 2012 double eleven, this figure was only 19.1 billion.
The hot sales of the double eleven e-commerce is only a microcosm of the rapid development of the e-commerce industry in recent years. As more and more traditional retailers touch the net, e-commerce continues to impact the traditional marketing model. The sales of LED lamps on the day made the companies that started the e-commerce business taste the sweetness. It is understood that Op Lighting, Ao Duo, Chau Ming Han source and other lighting brands have exceeded 10 million mark, Op Lighting has topped the list with a sales volume of 60.18 million, and sold more than 4 million on an oppleLED bedroom ceiling lamp alone. Among them, the sales in Taobao Mall is nearly 50 million.
The latest research report of the third-party research institute iResearch shows that in the first three quarters of 2013, the overall transaction scale of the domestic e-commerce market reached 2.2 trillion, 2.4 trillion and 2.5 trillion respectively, an increase of 25.4, 23.1 and 22.5 respectively over the same period last year. .
LED online shopping is fierce, and B2B and B2C websites have become important sales bases for LED lighting products. For example, the sales volume of Chau Minghanyuan double eleven reached nearly 10 million yuan, while Tongfang's home has 4 pieces of baby to participate in the double eleven clearance activities, of which the sales of thousands of LED bulbs are only 19 pieces, the whole year The words such as the lowest price slogan exclusive price and the mad price are the netizens who can't hold their inner desires and snap up.
In terms of marketing channels, LED e-commerce companies should do a good job in wireless applications. Industry insiders said that during the double eleventh period this year, the online store fully played the three micro-platforms (Weibo, WeChat, Weitao) to release preferential information, so that netizens can master the double eleven dynamics in real time, feedback the purchase experience, and participate in micro-Amoy The mobile phone shakes to get red envelopes and enhances the customer experience through wireless applications.
The news released by iResearch shows that China's e-commerce industry tends to mature and develop, and it is expected that it will maintain a relatively fast growth rate in the future. In 2012, the scale of China's e-commerce market transaction was 8.1 trillion yuan. Most industry insiders predict that according to the average growth level in the first three quarters of this year, the scale of China's e-commerce market transaction in 2013 will exceed 10 trillion yuan, and will be in 2015. Break through the 15 trillion yuan mark. The "Opinions on Promoting Information Consumption to Expand Domestic Demand" issued by the State Council proposing that by 2015 China's e-commerce transaction volume will exceed 18 trillion yuan.
According to the data, as of November 11, 2013, the number of LED products sold by Tmall platform reached 52,290, and the number of LED products in Jingdong Mall was 21,616. The marriage e-commerce, LED lighting companies to achieve online procurement, investment, brand promotion, distribution and other ways to coexist channel development, e-commerce has clearly opened up a whole new field.
Product Description:
Powder Transmission Spiral Conveyor, Screw Conveyor
Spiral conveyor Application:
Spiral conveyor is widely used in various industries, such as building materials, chemical industry, electric power, metallurgy, mine, coal, grain etc.It applies to all kinds pf powder ,and small block grannlar materials , such as pulverized coal , gravel , sand and lump coal , cement , grains , etc ., does not apply to transfer easily degenerate , viscous large and easy to agglomeration of materials , Screw Conveyor working environment temperature should be -20---+50°C range , the transportation of materials temperature below 200°C, the largest dip 20°.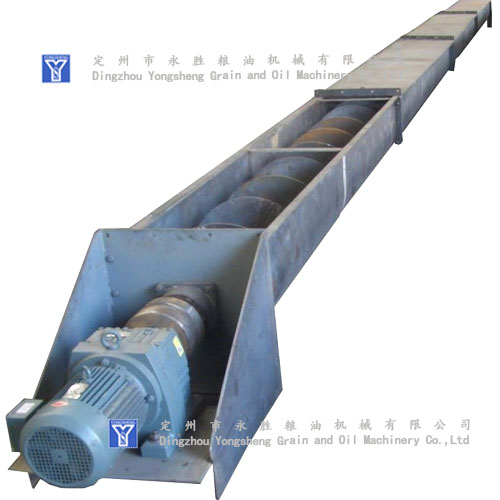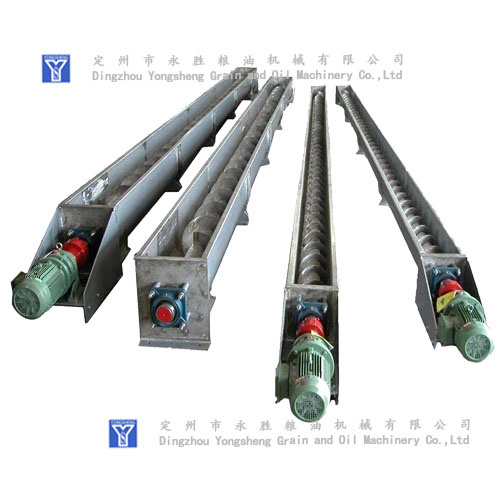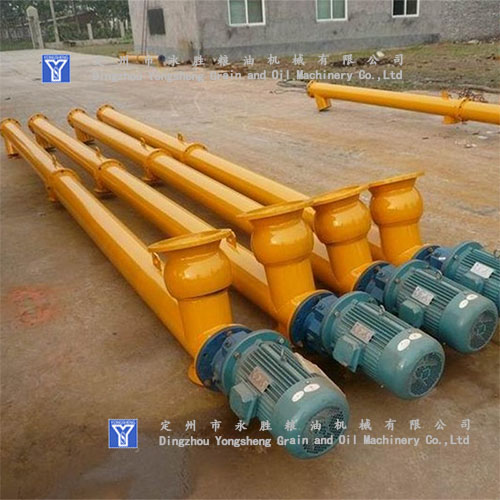 Screw Conveyor
Material Transmission Spiral Conveyor,Powder Transmission Spiral Conveyor,Horizontal Screw Conveyor Tlss ,Spiral Screw Conveyor
Dingzhou Yongsheng Grain & Oil Machinery Co.,Ltd. , http://www.oilpresschina.com