Information Times (Reporter Xiong Jiayan Correspondent Li Hongbin, Mai Jinghua, Zhou Donghui) Recently, the reporter learned from the Guangzhou Port Group that the Nansha Free Trade Zone is seeking to import 10,000 cars in parallel next year. In addition, the new multi-storey garage at Nansha Automobile Terminal is expected to be opened at the end of this year. At that time, the pressure of importing cars from Dongguan Xinsha Port will be diverted, so that Guangzhou citizens can purchase more imported cars from high-end brands at a more favorable price.
Guangzhou Port Dalian Port joins in parallel importing cars
Recently, Guangzhou Port Co., Ltd. and Dalian Port Co., Ltd. held the signing ceremony of Guangzhou Jingang Automobile International Trade Co., Ltd., and will jointly launch parallel import automobile business in Nansha Free Trade Zone. On June 9, the Guangzhou Municipal Commission of Commerce issued a notice to launch a pilot car parallel import in the Nansha Free Trade Zone. So far, Guangzhou has become the third city in the country to be approved for this pilot after Shanghai and Shenzhen. According to reports, the Nansha Free Trade Zone has studied and worked out relevant work plans, and strives to achieve parallel imports of 10,000 vehicles next year.
The reporter learned that it is estimated that China's parallel imports of automobiles will reach 200,000 units this year, nearly double the year-on-year; by 2020, it will reach 400,000 units, accounting for more than 20% of China's total automobile imports. At this stage, the main import ports for parallel imported cars are Tianjin and Dalian, and the two ports account for 80% to 90% of the national parallel import market share, of which more than 50% are sold to the southern market.
Multi-storey garage at the end of Nansha Motor Terminal
It is reported that the import port of Nansha Automobile Terminal is 55 kilometers away from Guangzhou City, and not more than 100 kilometers away from Dongguan, Shenzhen, Zhuhai, Foshan and Zhongshan. The terminal can park 20,000 commercial vehicles at the same time. The total length of the shoreline is 623 meters. It has three berths for 30,000-ton trucks. The front-end design has a water depth of -12 meters and can dock at the world's largest car. At present, the terminal plans to build a multi-storey garage with a total use area of ​​more than 80,000 square meters. It is expected to be completed and put into operation by the end of this year.
In addition, Nansha New District plans Shazi Island as a storage and logistics distribution center for commodity vehicles in South China, and builds a logistics distribution center, including a multi-storey garage and auto parts logistics base, and at the same time builds a comprehensive vehicle service center, which will also superimpose the Nansha New District. Bonded policy, construction of bonded import vehicle display center.
According to the Guangzhou Port Group, the customs inspection, inspection and quarantine, border inspection and maritime port inspection units of Nansha Automobile Terminal will continue to optimize customs clearance procedures and supervision modes. The terminal has an independent customs inspection site, and the customs supervision zone has two two-way customs clearance. In and out of the bayonet; and has an internationally leading inspection line imported from Germany, can detect more than 100 imported cars per day.
Zhiduo D
What are the benefits of parallel imported cars?
1. More favorable price
Parallel imported cars bypassed the sales links of general distributors, regional distributors, 4S stores, etc., eliminating a lot of intermediate links, dealer pricing is not restricted by manufacturers, and the price is 10% lower than the price of medium-sized cars. %.
2. The model is novel and quick to pick up the car
After the overseas new car is listed, it may not be listed in China because of some automobile manufacturers' strategic planning and domestic certification. Parallel imports have saved a large part of the waiting time for new cars.
3. The model configuration is more abundant
Can buy overseas models that are not available in China, and some luxury sports cars, pickups, RV models and original modified models that have not been sold in China can also be purchased at parallel import car dealers.
4. Pick up the car process optimization
Except for new overseas cars that have not yet entered the country, most models will be taken away immediately after completing the corresponding procedures. If you don't finish the formalities, it will take only about 1 month to pick up the car.
Cutting Machine Series

UTECH Cutting Machine Series include Plasma Cutting Machine, CO2 Metal and Nonmetal Laser Cutting Machine , Fiber Laser Cutting Machine. Mainly be used for cutting metal materials, such as stainless steel, carbon steel, aluminum, etc.

1) Plasma cutting machine include Portable type, Desktop type, Gantry type, you can choose any type you`d like. With CNC plasma cutting machines, businesses can greatly increase their capabilities, offering their clients and consumers high quality, high-end results. Known for precision, efficiency and versatility, Cnc Plasma Cutting Machines are an effective solution for manufacturing businesses, and with operations of all sizes and scopes. Here, you`ll learn more about CNC burn tables and CNC cutting machines.
2) Metal and nonmetal laser cutting machine can cut metal and nonmetal materials. Nowadays acrylic and steel is the most popular material in the advertise industry. Laser Machine s can do well performance according to it. For acrylic, customers normally need engrave and cut. The best option is co2 laser engraving cutting machine. There is different power(60w-300w) and working size(600*400mm-1500*3000mm) for meeting different requirements.
3) Fiber laser cutting machine, with 600*400mm, 1300*2500mm, 1500*3000mm working area. It is manufactured with aerospace standards and formed by 4300 tons press extrusion molding. After aging treatment, its strength can reach 6061 T6 which is the strongest strength of all gantries. Aviation aluminum has many advantages, such as good toughness, light weight, corrosion resistance, anti-oxidation, low density, and greatly increase the processing speed.


These kind of machine`s size and appearance can be customized.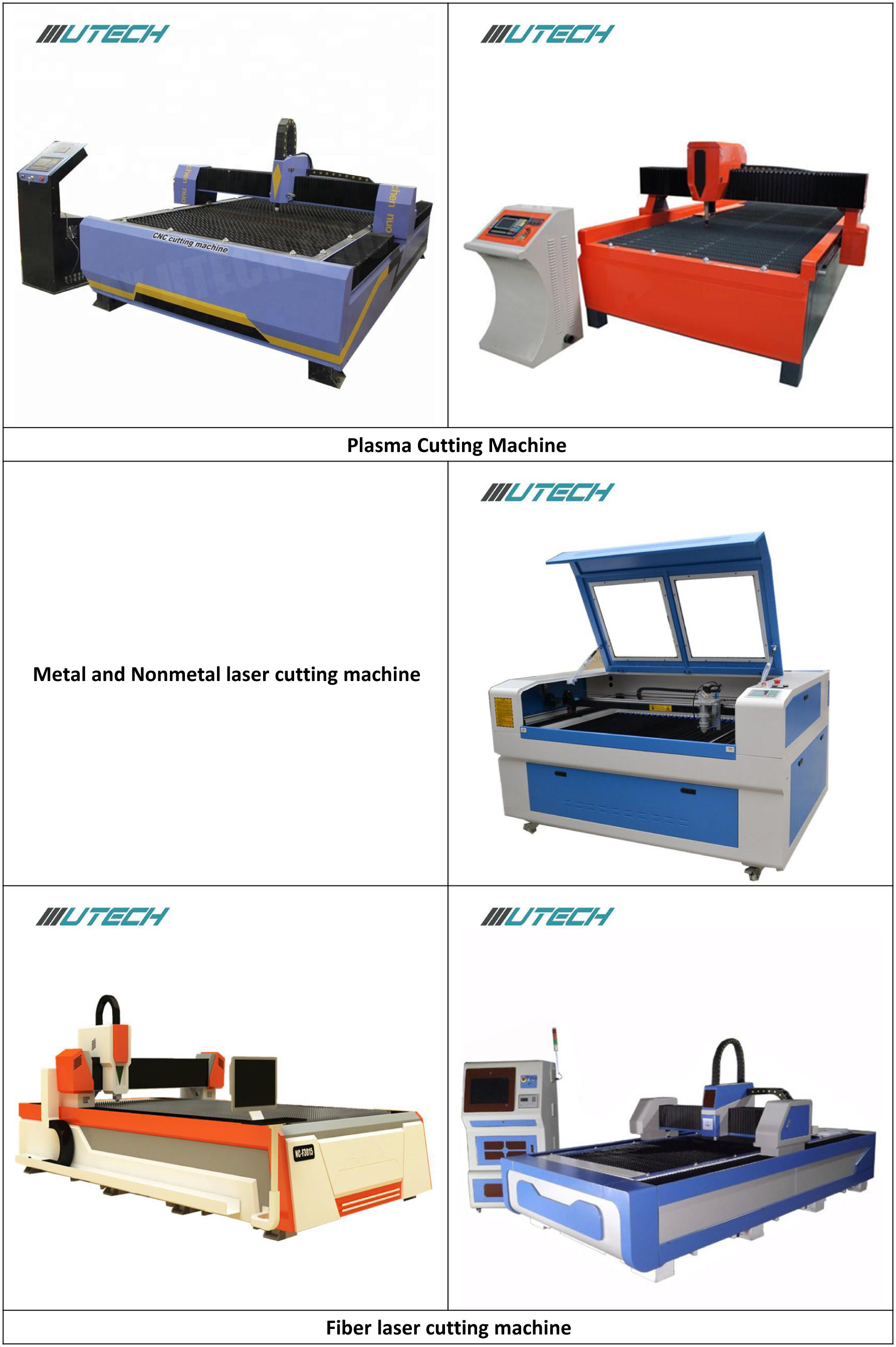 Cutting Machine Series
Automatic Cutting Machine,Automatic Feeding Laser Cutting Machine,Metal Cutting Machine,Nonmetal Cutting Machine
Shandong U-May CNC Technology Co., Ltd. , https://www.sesamecnc.com