On June 4th, the "2015 Digital Chemical Factory International Symposium" hosted by the China Automotive Engineering Society, many experts from the automotive industry, industrial automation and other fields, in the intelligent factory, industry 4.0 and automotive industry, from digital factory to In-depth discussions on various topics such as smart manufacturing.
Professor Ouyang Jinsong, director of the Institute of Mechanical and Instrumental Integrated Technology and Economics of the Machinery Industry, said that overall, "Made in China 2025" has many similarities with "German Industry 4.0".
The commonality is that both strategies are to meet the arrival of a new round of technology and industrial revolution, focusing on intelligent production supported by digitalization and networking.
The difference is that the manufacturing bases of the two countries are different. Germany is a manufacturing powerhouse and China is a manufacturing power. Made in China accounts for 20% of the world's manufacturing, but it is a bit "puffy." In addition, the industrial development stages of the two countries are different. Germany has completed Industry 3.0, which is in the stage of applying electronic information technology to further improve the level of production automation. However, China's industrialization development history is not long, most of which are still not automated and digital. It is in Industry 2.0, which is to bring humans into the pipeline mode with clear division of labor and mass production and the "Electric Age" stage, and partially reach the 3.0 level. Therefore, China's development industry should go hand in hand with 2.0, 3.0 and 4.0.
Industry 4.0 explains the spirit of German manufacturing
What is Industry 4.0? A comparative standard is: the fourth industrial revolution dominated by intelligent manufacturing (revolutionary production methods). Through the information physical system CPS, the manufacturing units automatically exchange information, trigger actions and realize control independently of each other in the whole life cycle, and transform the manufacturing industry into intelligent.
The international celebrity UlrichSendler's answer includes the following four aspects: no clear definition; successful marketing; adopting the Internet concept, in line with the needs of social development; receiving strong support from the government.
Obviously, a micro, a macro, the former explains its connotation, while the latter more explains its integration with society.
In this regard, Ouyang Jinsong explained from the government level that the German government implemented Industry 4.0, mainly because it wants to integrate information and communication technology into traditional manufacturing to maintain its global market leadership and establish and cultivate CPS technology and products. The new market has become a major supplier of smart manufacturing technology.
Du Pinsheng, vice president of Phoenix Electric, believes that Industry 4.0 neither promotes products nor promotes technology, nor does it promote publicity. In fact, it is a stimulant of German industrial spirit, it promotes a concept, depicting The prospect of future industrial development.
From the virtual digital plant platform that Siemens built for Ford, the plant virtualized the entire Ford plant line and production process. As can be seen from its operation, the digital factory platform can identify problems as early as possible, optimize the process flow, and simultaneously share data in real time to support virtual verification of global factories. Zhou Kehu from Siemens Digital Factory Group Siemens Industrial Software said that the business value of Ford Virtual Factory is to improve production efficiency, support global production, and standardize production.
Industry 4.0 and smart manufacturing in China  
In the face of the current domestic economic growth rate decline, how to use the Internet to integrate the concept of intelligent manufacturing to serve the automotive industry? Li Xiaoqing, general manager of Shanghai Wangqing Automation Technology Co., Ltd. believes that to some extent, improving corporate competitiveness is the embodiment of national strength. In terms of technological innovation, the US model is a difficult, long and risky path for Chinese companies. The German manufacturing innovation model is precisely an intelligent advanced manufacturing model that integrates with the Internet. It can improve product quality and efficiency, reduce costs and achieve rapid response. It is a model that Chinese enterprises can accept and relatively easy to achieve. But at the same time, what we are required to do and must do is to improve the competitiveness of enterprises as soon as possible, and to achieve the integration and development of manufacturing and new technologies.
In analyzing the advantages of Industry 4.0, Li Xiaoqing believes that in terms of production capacity, Industry 4.0 will ensure the profitability of only one-time production and low production, ensuring process flexibility and resource utilization. At the same time, Industry 4.0 is able to incorporate personalized, user-specific standards in the design, configuration, sequencing, planning, manufacturing, and operation phases, and to incorporate the final modifications. With Industry 4.0, profitability can be achieved even with the production of one-off items and very small production volumes (lot size can be 1).
Another feature of Industry 4.0 is its flexibility, especially the network, which enables dynamic configuration of different aspects of business processes such as quality, time, task, robustness, price and eco-friendliness, which contributes to materials and supply chains. Continuous "adjustment". At the same time, this means that engineering processes can become more flexible, manufacturing processes can be changed, temporary shortages (such as supply problems) can be compensated, and production volumes can be greatly improved in a short period of time.
Li Xiaoqing uses a box processing as an example to illustrate process optimization. This original process reaches 33 sequence and requires 17 machine tool production lines. The current process requires only 2 orders and 2 machine tools to reduce the number of clamping times and improve efficiency and quality. In terms of labor productivity, the original process of 35 people processed 15 boxes a day; the current process requires only 2 people to process 30 boxes a day, and the efficiency is greatly improved. The original process covers an area of ​​1890 square meters (18×105), and the new flexible processing line covers an area of ​​682 square meters (31×22), saving 60% of the area. At the same time of the above various savings and improvements, the traditional process of scribing and other processes has been eliminated in the current process, and the outdated equipment has been eliminated. The horizontal machining center is equipped with a double exchange rotary table, which saves the loading and unloading time, and the equipment investment is only the original 30%.
China owns Industry 4.0 instead of Industry 4.0 with China  
In another example of intelligent manufacturing of automobiles, a robot-based automotive welding automation production line, which develops intelligent high-speed flexible automatic welding lines, which are used to meet the high-programme, high-beat, high-flexibility, automation, The intelligent welding line production requirements, and the realization of the following five basic functions: First, intelligent switching, to achieve the key welding station body-in-white assembly model switching and positioning welding; Second, high-speed conveying equipment, to achieve the station Accurate high-speed transmission; third is quality control, which can detect the geometric accuracy of the white body after welding; fourth, robot welding, which realizes the welding and handling of the body-in-white assembly; fifth is the production control system, which uses the intelligence based on industrial bus technology. Control System.
Professor Wang Wei, deputy dean of the School of Mechanical and Power Engineering at Shanghai Jiao Tong University, who participated in the above-mentioned case, said that the importance of intelligent manufacturing technology and equipment is that it can be transformed from past dependence experience to science-based. For example, in the manufacturing process, from experience accumulation, analog design evolution to digital simulation and intelligent planning; in quality inspection, from manual measurement, rough estimation, to accurate measurement and real-time feedback; in terms of execution system, from manual operation, dependence Experience with intelligent control and flexible manufacturing.
Take the white body online detection and quality diagnosis control system developed by Shanghai Jiaotong University as an example. Its main technical solutions and systems, such as laser measurement sensors, measurement robots, measurement system controllers, data processing and fault diagnosis software, are all independent. Developed. The system can perform on-line laser detection, data processing and display in the process of automobile body manufacturing, and form a comprehensive monitoring technology for dimensional accuracy of the body manufacturing process under high-volume, high-beat, multi-vehicle flexible production conditions, and solve the online detection of autonomous equipment. An important problem in the middle.
Is it the choice of Germany's Industry 4.0, or China's manufacturing 2025? Ouyang Jinsong believes that the implementation of Industry 4.0 in Germany is essentially to maintain its leading position in the global market of the industrial sector, and to blame China's market, talent, capital, resources and other factors. And we need courage, wisdom and sacrifice, break the management and industry barriers, rebuild the production factor chain and value chain, and build a unified data platform for the whole life cycle of the product and the whole life cycle of the production process. "China has Industry 4.0, not Industry 4.0 has China!" Ouyang Jinsong firmly expressed his views.
our dished heads are used in a variety of applications and industries such as storage tanks, pressure vessels, road tank, food processing operations, chemical plants ,Nuclear operation, Oil Refining, Architectural feature, power generation.
Due to our forming experience and equipment, we can spin or press the first part of the process of forming your products, It depend on the thickness and material performance,
Our main products are 2:1 SE dished heads, Torispherical heads, Cones,Hemispherical Heads etc
Choosing the right type is the key decision for each customer and one for which our experience team to happy to give advice, simple speaking, the torispherical heads, the less ressure it can withstand, Conversely, the deeper dished heads, for example Elliptical heads, hemispherical, the greater pressure it can take.
Our in house-capability to form dished heads by cold press brings major benefits to our customers and sets us apart from others dished heads manufactures
For carbon steel dished heads, we can forming this dished heads from 76-9000mm in diameter and below 250mm in thickness
The general forming process as the below sketches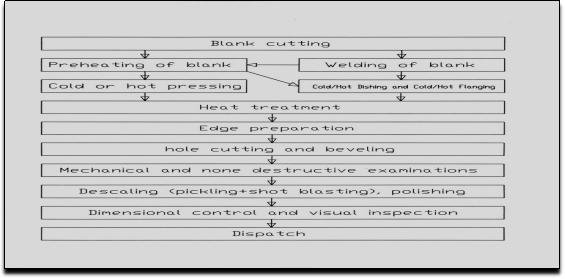 Technical Delivery Condition
1,Our material (hot Rolled Unalloyed structural steel, high and low temperature steel, High Alloy steel)
We have no carbon steel plates in our stock and most of plates are from Chinese steel market or mill. Meanwhile As Japanese owed company, We can also source the plates from Japanese ex-mill if end user can`t accept ex-chinese mill.
Basically the delivery time shall be below 20days for dished heads if plates are from steel market. and Max plates width from them is below 2200mm. it means that the seamless dished heads diameter shall be below about 1800mm.
The max width CS plates that Chinese mill can do is below 4700mm,and dished heads can be seamless below 3800mm in diameter.
2,Enquiry/order required information
We can give our clients once they gave us the below information
But if clients tolerance is higher than below Hokkai standards, it shall be provided to Hokkai prior to offer or ordering.
Carbon Steel Dished Only Head,Carbon Steel Dish Head,Carbon Steel Welding Dish Head,Carbon Steel Flange Only Dished Head
YIXING HOKKAI HEAD PLATE CO.,LTD , http://www.hokkaidishedend.com