If we say that in the past few years, people have focused on Xichai 's focus on the stunts of leading industries in fuel-efficient technologies, and now people are paying attention to Xichai, and it is more about exploring April 1, 2016 in Beijing, Tianjin, and Hebei Province. In the 11 provinces and municipalities of the eastern part of China, the national five emissions have been implemented as scheduled, and is the Xicheer, the vanguard of the engine industry, ready? It is gratifying to note that Xixi's five national products and technical services have been put in place and the market has cultivated "open doors". Five orders are frequent, reputation and market influence continue to climb.
The ancestors became more and more
"The successful competition is inseparable with Xichai's strong competitive advantage in independent innovation! According to Xichai's research and development experts, with the upgrading of oil products and the upgrading of emission technologies, the commercial vehicle market is about to set off a wave of launches in the market of China's five diesel engine products. In the face of this unstoppable trend, Xichai has long been planning to sail and set sail on its sail. The five major power platforms of Xichai Aowei, Hengwei and Conway have been completed, involving more than 40 types of aircraft. Five truck and bus announcements broke through 400.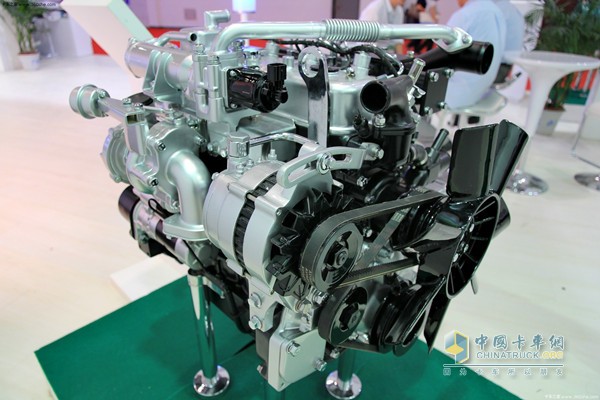 Xichai Five High-end Power
"To build a high-end power supermarket to form a full range of five products from Aowei, Hengwei and Conway." R&D experts told reporters that currently Zichai's five products have built Z, W, X, LD, L, M and other platforms, It spans 2 to 13 liters and covers 60 to 500 horsepower. At the same time, Xichai fully considers the supporting features of commercial vehicle market segments and the convenience of customers, and launches two different upgrade routes for EGR and SCR. Proudly, Xichai's five-phase products have fully inherited the technological advantages of the original products and carried out innovative extensions. The application of technologies such as variable geometry cross-section supercharger, bipolar booster, power turbine, and "three-high" lead not only makes The comprehensive fuel-saving capability, power performance and engine reliability of the Five National Products have been greatly improved, making Xican even more top-ranking in high-tech engine applications. At the same time, Xichai has also carried out a technical plan for the six countries to upgrade to ensure the technical upgrading and product development continuity.
One step ahead of others
"The five-series models of Xichai State are in the leading position in the same level of power, economy, and reliability in the same grade of domestic power products." It is learned that Xichai has already achieved the leading technological advantage of the five key product platforms in the country. Weiwei, Hengwei, and Conway's optimization and upgrading of the three major products have achieved a well-known transformation of the product brand from domestic to internationally renowned.
"Aowei L and M's five series engines cover 260 to 500 horsepower and have achieved a number of core technological achievements. It has a proprietary combustion system and calibration technology. The fuel economy of the product is better." According to R&D experts, The application of many achievements such as long-life technology and long-term maintenance technology of Aowei's five series of products can reduce users' comprehensive maintenance costs by 60%. At the same time, Aowei State's five series of products adopts a solid-chain brake with a dedicated brake cam technology, and the engine braking power and vehicle safety are also better. In particular, Aowei Guowu's five series of products have achieved all-round leading positions among Aowei's five series of products through the application of lightweight, thermal management and other technologies.
The ancestors step brand upgrade
"Hengwei State's five series models have fully transplanted the technical features of Aowei Diesel Engine and inherited the development process of Aowei Diesel Engine. The performance is more reliable! According to experts, Xichai Hengwei State Five F, LD two series of engines, power coverage 130 to 290 horsepower. It adopts the development method and means of Aowei. The product replaces the two-valve structure with four-valve. The cylinder head/cylinder cover, cylinder block, fuel system, engine brake and other structural aspects have all been newly optimized and upgraded and passed Car calibration, three-high calibration, and road spectrum collection provide reliable and practical reference, product durability and economic efficiency are improved, and comprehensive competitiveness is leading domestically. In the high-end market segments, Xichai also introduced VNT and dual-stage pressurization products to form matching solutions for different markets.
"The Conway five-series models use electronically-controlled high-pressure common rail system, which has higher injection pressure, higher atomization rate, and more complete combustion!" It is understood that Conway's five Z, W, and X series engines cover 60~ 140 horsepower. Its products also use Aowei's development methods and methods. They have upgraded the quality, appearance and performance of the W and X series. In particular, the structure, materials and processing technology of their core moving parts have been redesigned and improved. Durability and comfort performance, in fluid seal and gear engagement, Xichai applied a number of structural improvements, so that the reliability of the engine has been greatly improved, and power is successfully transplanted Aowei platform advanced transient performance test methods, so that power Sex has been significantly upgraded.
"The rapid spread of the national five products, in addition to products, technology and other hardware facilities of high quality, its software facilities, that is, follow-up service is fast, is the key to win the market." To improve the country's five products "excellent core service" quality , Xichai has successively carried out skills training for the five national products in key areas, and provided the entire tracking service for the configuration of the Xichai Five-engined vehicle so that it can fully grasp the use and maintenance skills of the Xichai Five Engine. "Service initiatives have won the praise of more and more users.
"After the autumn came to the fore, we dared to conquer the spring." There are various indications that the five series engines independently developed by Xichai have not only become a strong support for the development of "liberation", but also become the first choice for public transport in green cities.
Door Frame Roll Forming Machine
The door frame Roll Forming Machine can make metal door or window frames.
The punching also can be designed according to your requirement.
After roll formed by this roll forming machine, the surface will be very smooth and beautiful without any scratch on surface.
Component:
1.Decoiler
2.Roll Forming System
3.Punching system
4.Cutting Device
5.Hydraulic Station
6.PLC control system
Working Flow:
Loading coil – decoiling – guide feeding – main roll forming – hydrarlic cutting – finished products
Technique parameters:
Processing material: aluzinc/galvanized steel/colored steel coil
Material thickness: 0.3-3mm
Main motor power: 4kw(can change as request)
Pump power: 4kw
Shaft diameter: 75mm
Forming steps: 15steps and more
Roller material: high grade 45# steel, hard Chromium plating
Main frame:300H steel
Medium plate thickness: 16mm
Speed:8-12m/min
Material of the cutting blade:Cr12
Control system: PLC computer control
Power supply: 380V, 3 Phase, 60Hz (can change as customers request)
Our door frame roll forming machine greatly simplifies the production process and improves production efficiency.
Door Frame Roll Forming Machine
Door Frame Roll Forming Machine,Used Door Frame Roll Forming Machine,C Purlin Door Frame Roll Forming Machine,Steel Door Frame Roll Forming Machine
CANGZHOU DIXIN ROLL FORMING MACHINE CO., LTD , https://www.hebeimachine.com